Emotional fullness and stomach satiety
In the previous blog post I've addressed different steps when working with people with anorexia. Intrinsic motivation and readiness to change destructive eating habits is essential. If the behavior itself is not perceived as problematic, then there is hardly any room for self-reflection. Somebody with severe restrictive eating patterns also has to be followed up by other health professionals to prevent any further physical harm. All these precautions have to be taken before the start of a mindful eating course.
Separation and integration
I think one of the reasons why I love to work with women with anorexia is exploring together their relationship with the mind. In the beginning of the mindful eating path, the anorectic, perfectionist and/or critical part in them has completely taken over. There is no (head)space left for any grateful, kind or compassionate thoughts. How to separate then the anorectic from the wise voice inside?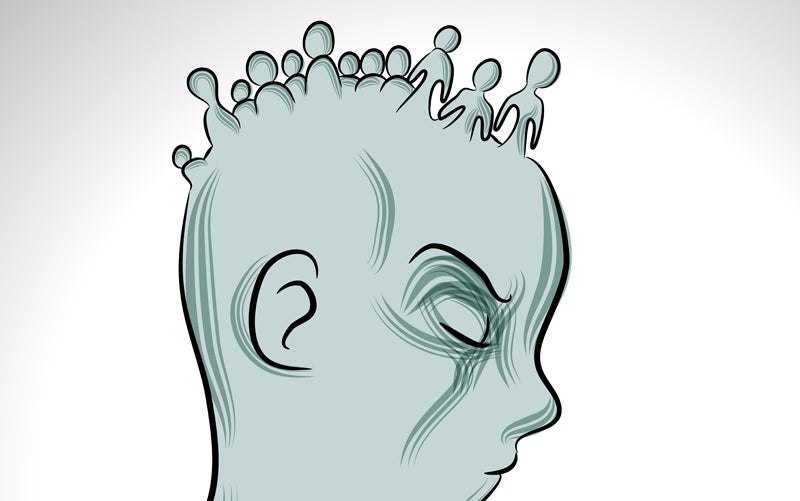 The first step in self-inquiry is doing a reality check. Do these thoughts match with real life? Will I become fat when eating a piece of chocolate? Yes, no or not sure? Most often the honest answer is "no" which opens the mind for new kinds of information.
The next step is identifying who is talking now. The anorectic part talks in a judgmental, manipulative manner. One of my patients said that the anorectic part is never satisfied, it is always fearful and goes in overdrive, screaming "not good enough!". The moment she could recognize and acknowledge this presence, it became less overwhelming. Together with the anorectic part, we also invite the more hidden and neglected compassionate, kind and wise voices. The following step is not only noticing different voices but also feeling these thoughts mirrored in the body. For people with eating disorders, it is crucial to re-establish the forgotten mind-body connection. Without any exception, people report that a fearful or judgmental voice creates a lot of tension in the body and feels very unpleasant. On the other hand, the more friendly counterpart relaxes the muscles, releases any unnecessary tension and feels very wholesome. The body rewards us with feeling good when having a positive mind state.
Stomach fullness and emotional satiety
Fear, anxiety and worries are the allies of the anorectic part. Often people with anorexia perceive their stomachs as being always full, although barely any food is inside the belly. When inquiring, their feeling of satiety is most of the time 10/10. So not a good measure for mindful eating teachers to invite them to eat more. What are our options?
LOCATING: Firstly, being aware of the physical sensations of fullness in the body. Really pointing out with the hand, finding the exact spot or smallest area. Then exploring the surrounding areas: "something there, other sensations here?'
NAMING: Next step is describing the sensations in details as if talking with a medical doctor. Is it heavy or light, warm or cold, expanded or contracted, pressure, moving or still?  Henepola Gunaratana has written the qualities of the four elements in a very clear way and I find his neutral descriptions of physical sensations very useful to support participants. This way the stomach is no longer perceived from the mind perspective (thoughts) with its tendency to categorize everything in pleasant, unpleasant or neutral.
DISCERNING: Finally, discerning heaviness or pressure in the stomach due to fear, anxiety and the actual physical experience of fullness when having foods in the stomach. For some people, emotions are expressed as feelings of hunger in the belly, others feel the opposite and link emotions with fullness, similar as after eating a heavy dinner.
In the past years, I've seen people with anorexia shifting their base of operation from perfectionism and criticism towards a more open awareness. When there is sufficient mental flexibility, the protective qualities of the anorectic voice can also be appreciated and softened with kindness, compassion and wisdom.
Caroline Baerten, MA,RD, Belgium